Gathering
Thursday

Herself
Once again, Herself graced us with her presence. DG arrived at about 8:10 that is the official time noted! *g* After she and Elva her friend that travels sometimes with her had a wee bit to eat DG got to business. She chatted with Hosers as she signed away. This year Collen Le Hoser had the most books to sign....about eight. Doesn't beat M&M's record of ELEVEN hard covers last year.....sorry Colleen had to toss that in there! You don't carry that many books across the country and not talk about it every chance you get! *g*
Colleen and her EIGHT books, notice DG is smiling, she wasn't smiling after! *g*/ MF getting her books signed./ Cherie's book getting signed with Bev sitting by for photo ops!/ Judie trying not to boss DG around like she does the rest of us!/DG her friend Elva and Sharon.
Mairghread & DG./ Janice, Elaine & DG./ Leann, Cherie & DG./Kimberly & DG./ Lorri, Mandy & DG.
Sharon side tracked while DG opens gifts./ Again DG and gift./DG preparing to read an excerpt./DG, Judie, May and CF
She read this wonderful excerpt about Claire looking at Jamie's sperm through a microscope and his reactions and questions to the tiny critters! Had the whole room laughing...verra hosed!
She even signed Scotty's!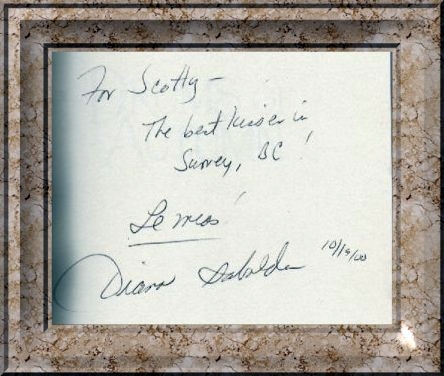 If you canna read it .......it says
For Scotty- The best kisses in Surrey, BC!
Le meas!
Diana Gabaldon 10/14/00
Just so you know a little background on this autograph. M&M bet Scotty ten bucks he wouldn't kiss DG at the Gathering. Needless to say M&M lost the bet! But...Scotty told DG about the bet before he kissed her!
It was rumored he kissed her twice! It's not certain if Jodi Yo B was in line to have her book signed or to get a kiss from Scotty!

It's Kilt DH!!!!!
Judie was kind enough to loan us her hubby in a kilt for the night.
As long as we adhered to some minor rules:
Under Kilt: Cameras YES, Hands NO
Dinna touch the sporran!
Absolutely no "Mustache Rides!"
Everybody wants a picture with the Kilt DH!
DG & Rick, Judie & Rick, Rick & Hedy, Gwen & Rick, Scotty & Rick.
And finally.......Under the Kilt!!!!!
Tamara pinning a note on under Ricks kilt.
Can't read the note you say!

Rita Gets Leid!
Colleen LeHoser sent an email that we were to bring a lei with us for Rita! Seeing that Rita is going to Scotland and needs a lei really bad! Well as you can see many of us obliged, hopefully out of fun and not because we wanted to see someone get leid!
Rita and her companions, are ye green with envy?/Good thing for Scotty size and color dinna matter!/One more lei then I have to go!


All pictures left to right.
Table Hopping!
Ed, Mairghread, Charyl, Elaine, Karen and Colleen./ CF, M&M's hair, Scotty, Mandy, Ellie, Hedy, and Char./ Jerry, May, Judie, Lorri, Tamara, Leah and Leann./Janice, Kimberly, Sharon, Bev and Chris.
Charyl with door prize questions./Bev, Leah & Leanne. grow up Bev! *g*/ Kimberly, Chris, RDawn & Bev./Ed, Mairghread & Elaine.
Gabaldon In A Minute with DG, Elva, Rick, SharonB. & JaniceM./Hedy, CF, Char & Ellie./Charyl, Hedy, Lorri & Scotty./ Daintry sitting pretty!
Hedy & Ellie./ JaniceM. & CF./ Scotty, M&M & Judie./ Little Judie (Tamara) & Hedy. I think Tam was trying to sit on Hedy's sausage!
May, Judie & Laurie./ Ed & Mairghread./ Gwen and her Sues bracelet she won./ DG, Eva & SharonB.
Rita, Daintry & Janice watching SharonB pretend she's DG!/Judie with door prizes./ Kimberly & Hedy./Jodi Yo B & Daintry signing each others "Companions". This was really neat, lots of the ladies brought their "Companions" to be signed by all the hosers in attendance!/May standing in fear of the HTML Police.....can ye see the badges of the Chief and Commish or is it "tweedle di" & "tweedle dum"?
JaniceM. who is always smiling!/M&M and Ellie with fresh make-up!/ Chris, Gwen and Paula. / M&M w/basket of Leah's maple candy./Mairghread and Gwen.
Ladies of Lallybroch banner made by Shadow!
And...
a special thanks to all the hosers who generously donated door prizes!

......and to Gayle who was with us in "spirits", we loved the wine!
Thursday Night Friday Night. Awards Hosers On/Off Hoserosity Lallyquilters