Hoserosity

Gabaldon in a Minute
Presented by
JaniceM & SharonB
Recap by Charyl
One of the most hosed moments during Surrey 2000, occurred during the Thursday Night Gathering with Diana Gabaldon. Clan MacHoser was treated to a very hosed reading of the very hosed Gabaldon in a Minute written by the very hosed Lady Belinda. The readers were JaniceM and SharonB, oh yeah, and they are very hosed, too. These two lassies performed with such style that the hosers in attendance were in stitches.

First Janice reads, we laugh, then Sharon reads, we laugh. It's a real hoot. Finally we get to this part of Voyager which Sharon is reading:

Abduction of Claire/fever, illness/woman overboard/pirates/man overboard /yummy turtle soup/OUCH Claire's arm is soaked in best brandy. Alcoholic haze... Mmmmmphm. Major storm, OUCH: Claire has broken leg.

Sharon stumbled over the broken leg bit and then paused, and began questioning which of Claire's limbs was actually injured, insisting that no, it was Claire's arm that was broken not her leg. Sharon and Janice began a short and very amusing conversation that went something like: Wasn't it her arm? No it was her leg, when she fell overboard. No, no, I'm sure she broke her arm . . . All the while Diana, who was sitting just next to and below Sharon, was nodding her head and saying, "it was her leg. Yes her leg." I wonder if Diana felt like the invisible woman as more hosers became involved in the conversation. Finally it dawned on everyone that the trivia master of the books was right there to ask and many heads turned toward Diana. It was amusing as we realized that we had gotten so caught up in Janice and Sharon's engaging conversation that we were oblivious to Herself who had actually answered right away *g*. I wonder how many times Diana said "It's the leg."

Sharon and Janice put on quite a show that night. I wish I could have recorded their performance. They play off each other in a very natural way, and it is a hoot to watch and listen to them. I'm smiling right now as I recall the evening.
Ahhhhhh. . . . Lallybroch sure is a wonderful place!

Surrey in a Minute
by Scotty
Scotty's whole Surrey experience inspired by Lady Belinda's Gabaldon in a Minute! It's about time Scotty came to Surrey! The man has a face that is just timeless! Time will tell if Scotty had a good time! Alright enough with the puns, I knew you would get sick of them in due time!
Because time waits for no one, here it is!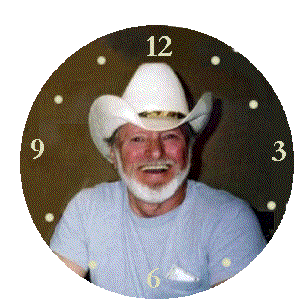 The 2 C's, Kilted DH & Judie do Vancouver
The Kilt DH (Rick), Judie, Charyl & CF dining out.....notice how they hid all the liquor!
"The Cucumber Caper"
For more of this adventure click on the cuk!
CF and Judie posing before one of our shopping trips./ Charyl is a real pain with a camera in her hands.CF, Judie and Rick at the Seattle Airport. Hosers re-united once more./Canadian graffiti artists can't spell *g*


CF and Charyl stopping for a pose in front of a Portuguese bakery. Hi RITA!/ We were thinking of you!Judie and Charyl. Woo Hoo!/This teapot's for YOU, M&M. This is how tea is supposed to be made. Hoser hugs!



How can we not think of the Foreign Woman (Rita) with a sign like this?

Dunkie Mugs
A long time ago, M&M made a catalog order,
for some mugs to take over the border.
Dunkie mugs for CF & Judie,
on which Adrian is not at all a cutie!
Matter of fact this Dunkie mug is just butt ugly,
some would even call it .....fugly!

Judie manning LOL Central
What can't read the sign?


Hosers Daintry, Colleen, Char, Rita, Leah & Bev./ Bev, Leah & Leann./Ellie sleeping in her closet./Hoser Group: top: Leah, Colleen, Sharon, Chris, bottom: Leann, Ellie, Daintry and Bev. /The denim gang.....Scotty give me back my arm!
M&M kissing Charyl. /CF and M&M needed some swapping head shots of Judie./MIK in lobby of hotel.

The first lady of Lallybroch.

Thursday Night Friday Night. Awards Hosers On/Off Hoserosity Lallyquilters