Gifts and Autographs


Gifts

Lets see.....Judie brought us Lallybroch bookmarks and business cards. Charyl brought us little Lallybroch
magnets for the fridge. Hedy brought little plaid barretts for all us. M&M brought baskets for Diana and Judie.
Kate brought our verra own Claire. CF of course brought sausage....she loves sausage! Diana also was given some chocolate hedgehog truffles, who knew they ever made such a thing.


Diana with a gift wrapped sausage.
Nothing says "We Love You" like a gift wrapped sausage!



Diana and Judie with their sausages on display.
Judie must have shrinkage.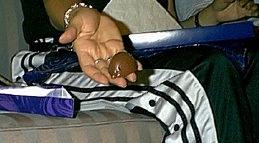 A Chocolate Hedgehog Truffle up close and personal.

Our Lallygifts from Judie & Charyl.


Autographs


Mandy with her book for Diana to sign.



Mandy having her t-shirt signed.



Pamela having her books signed.



M&M with her m&m toy from Charyl having one of her many books signed.



Diana signing Kim Marie's book.








DG & Degenerates

Sausage & Starbucks

Tea Leaves & Tales